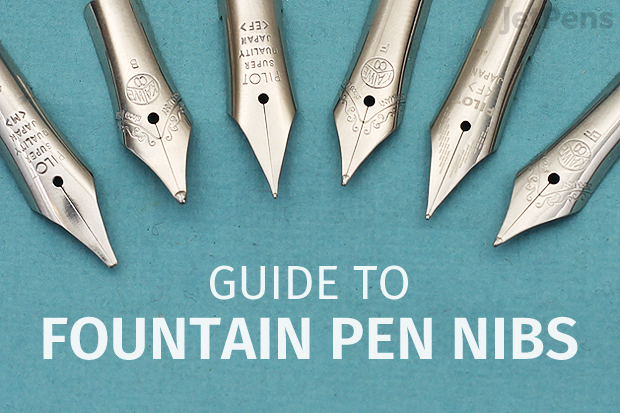 Like a car and its tires, a fountain pen will only write as well as the nib it is paired with. The nib is responsible for determining how a fountain pen will write, making it the first thing that should be considered when choosing a fountain pen. Let's take a look at how a fountain pen nib works and what things you should consider when picking one out.
NIB CHARACTERISTICS
The four most important characteristics when choosing a fountain pen nib are tip shape, tip size, flexibility, and nib material.
CONCLUSION
We've covered the most important things to consider when choosing a fountain pen nib and listed them alongside some of the most popular lines we carry for easy reference below. Do you have a favorite fountain pen nib type or any nib-related questions? Let us know in the comments section below!
Nib Types for Popular Fountain Pens
| Fountain Pen | Tip Sizes | Sizing | Flexibility | Nib Material |
| --- | --- | --- | --- | --- |
| Kaweco Classic Sport / Ice Sport / Skyline Sport | EF, F, M, B, BB*, 1.1 mm italic*, 1.5 mm italic*, 1.9 mm italic*, 2.3 mm italic* | Western | Firm | Steel |
| Lamy Safari | EF, F, M, B, 1.1 mm italic*, 1.5 mm italic*, 1.9 mm italic* | Western | Firm | Steel |
| Lamy 2000 | EF, F, M, B | Western | Firm | Gold |
| Ohto Rook | F | Western | Firm | Steel |
| Parker IM | M | Western | Firm | Steel |
| Pelikan Twist | M | Western | Firm | Steel |
| Pilot Vanishing Point Decimo | EF*, F, M, B* | Japanese | Firm | Gold |
| Pilot Elabo | EF, F, M, B | Japanese | Soft | Gold |
| Pilot Metropolitan | F, M | Japanese | Firm | Steel |
| Pilot Penmanship | EF | Japanese | Firm | Steel |
| Pilot Plumix | M Italic | – | Firm | Steel |
| Platinum Preppy | EF, F, M | Japanese, Western | Firm | Steel |
| Retro 51 Tornado | F, M | Western | Firm | Steel |
| Sailor HighAce Neo | F | Japanese | Firm | Steel |
*Available only on some models or separately