RPET Felt  is very sustainable, as it can be 100% completely recycled.As long as it is not mixed with other materials, it can be recycled many times. In high temperatures, PET becomes liquid and can be easily shaped, helped by the fact that it quickly hardens.
Why rPET?
The world is struggling to control the menace of plastic use and waste. Experts opine that at current consumption rate almost all water bodies of the world will get choked by plastic waste by 2050.
How rPET is made?
After recycling, post-consumer PET plastic packaging is subjected to secondary selection. The packaging is sorted by colour, crushed, packed, and transported to the processing plant.
The processing plant is the place, where the recycling process truly begins. Firstly, the bales of PET packaging are unpacked. All labels, glue and other impurities are then removed from the packaging, preparing it for the next stage – grinding. The cleaned packaging is ground into PET flakes, which are then subjected to secondary clean, this time with the help of special cleaning machines.
With the help of an air stream, lighter materials, such as stickers or sand are removed from heavier flakes. After crystallization and drying of the material, a granulate is formed, which can be reused in the production of PET bottles. This recycled PET material is called rPET.
Below is our latest design of rpet felt products in 2022, including keychains, shopping bags, notebooks, glasses bags, etc.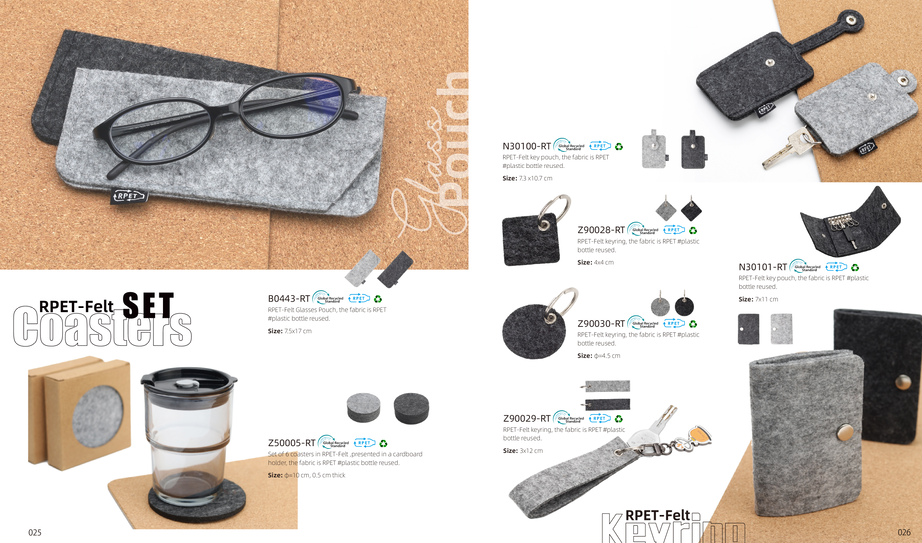 We can also customize your felt promotional gifts with your company's logo, product, and message for you to be able to promote your business using our felt promotional gifts. Contact us for your custom felt promotional gifts quote.